Hearing aid solutions for Devon & Somerset
Hearing aids & Ear wax removal Devon & Somerset
Hearing aids in Somerset at the Keynsham hearing centre by Stephen Neal. We are a family owned truly independent hearing centre based in Keynsham Somerset.
We supply and fit the very latest digital hearing aids from all the leading hearing aids manufacturers. We also conduct ear wax removal using Microsuction and the traditional water irrigation technique.
You can find out more about our ear wax Micro-suction removal here.
We now offer out of ours appointments
We are now offering out of hours appointments for al out new and existing clients. Please call Anita at Keynsham to arrange your out of hours appointment to suit your lifestyle.
If you are in Devon then the Honiton Hearing Centre is the place for you. Colin Eaton the lead audiologist is a whizz at removing ear wax using Micro-suction and the traditional water irrigation technique. Also if you are looking to get your hearing tested Honiton have the latest digital hearing test equipment available in store. As Sam on reception to make you an appointment to get your hearing tested and to discuss what's new when it comes to digital hearing aids. You will be amazed how good these really are these days. If you haven't had a hearing test for a while we think you really will be shocked at how things have changed in the last two years.
Devon and Somerset hearing news:
Cochlear and GN Expand Smart Hearing Alliance Collaboration
Cochlear Limited (ASX: COH), a maker of implantable hearing solutions, and GN (GN.CO), a manufacturer of intelligent audio solutions, signed a new agreement to "significantly expand" their Smart Hearing Alliance collaboration, GN announced on its website.
The Smart Hearing Alliance was established in 2015 to develop the most integrated, best-in-class hearing solutions—giving hearing aid and cochlear implant recipients access to the latest in connectivity and wireless technology, and helping bimodal recipients to achieve seamless connectivity between a cochlear implant in one ear, and a GN hearing aid in the other. The deepening of this relationship includes joint research and development, shared technology, and strengthened global Smart Hearing Alliance commercial collaboration between Cochlear and GN Hearing, the hearing aid division of the GN Group.
Cochlear and GN Hearing are now strengthening focus on their integrated product offering and expanding their presence in the clinical hearing aid and implantable hearing solutions markets globally. According to the announcement, the vision for this new collaboration will include a focus on fast-moving connectivity and wireless technology to allow for closer integration between Cochlear and GN Hearing technologies. The two companies will leverage research and development investment to jointly develop firmware and software technologies.
In addition to technology sharing, the two companies will strengthen the commercial collaboration and work together to enable clinicians to deliver a more seamless solution and best-in-class hearing experience to their patients.
GN Hearing CFO Marcus Desimoni and Cochlear CEO and President Dig Howitt welcomed the signing of the expanded agreement.
Devon ear wax removal
Desimoni said: "This strengthened alliance is an important step forward for the millions of people around the world with disabling hearing loss—making the most advanced technology more accessible and simplifying the experience with more integrated solutions. GN Hearing is committed to advancing what is possible for people with hearing loss. This strategic partnership is a very smart and cost-effective way to expand the R&D capacity of both companies to reach our goals."
Howitt said: "At Cochlear, we're driven to develop hearing solutions that empower people to connect with others and live a full life. By expanding our collaboration with GN Hearing, we're able to bring the latest in connectivity and wireless technology to our implant recipients more quickly. We're also able to give bimodal recipients—those using a cochlear implant in one ear, and a hearing aid in the other—unparalleled performance and a seamless experience with both devices. As two leaders in our areas of hearing health, this collaboration demonstrates our commitment to design and bring to market the best hearing solutions available."
Microsuction in Devon
This collaboration aims to improve the hearing outcomes for more people with moderate to profound hearing loss. In developing more integrated bimodal hearing solutions, Cochlear and GN Hearing have focused on helping to achieve greater connectivity for people—not only between the two companies' devices, but also with Apple and Android technology. Most recently, Cochlear and GN Hearing collaborated to bring to market the what is said to be the "first Made for iPhone" Smart Bimodal Solution, enabling recipients to synchronize streaming to both ears from a compatible iPhone, iPad, or iPod touch. The Nucleus® 7 Bimodal Solutionis delivered by using a Cochlear Nucleus 7 Sound Processor in one ear, a compatible ReSound hearing aid in the other ear, and a paired iPhone or iPod touch to control functionality for both hearing devices.
Devon hearing aids
The Smart Hearing Alliance delivers bimodal solutions connecting Cochlear Nucleus cochlear implants, Cochlear Baha bone conduction implants, wireless accessories, and ReSound hearing aids.
Source: GN, Cochlear Ltd
Image: GN, Cochlear Ltd
https://ear-wax-removal.co.uk/wp-content/uploads/2018/11/Ear-wax-removal-Devon-Somerset-Rechargable-hearing-aids-Keynsham-Bristol.jpg
640
640
admin
https://ear-wax-removal.co.uk/wp-content/uploads/2017/12/earwax-removal.png
admin
2018-11-26 16:43:03
2018-11-26 16:43:03
Hearing aid solutions for Devon & Somerset
Newsreader Lewis Vaughan Jones makes debut wearing hearing aid.
This story is from the BBC news site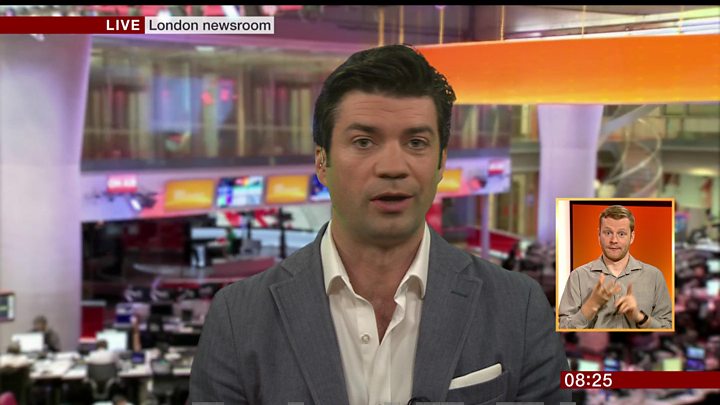 A newsreader who suddenly lost the hearing in his left ear, has received messages of support after his first appearance on air with a hearing aid.
Lewis Vaughan Jones, 37, feared his career presenting the news on the BBC and ITN was over after doctors told him the hearing loss was permanent.
"That was the darkest moment," he told BBC Radio 5 live.
He also spoke of his embarrassment in social situations and the difficulties of coming to terms with a hearing aid.
Vaughan Jones had good hearing all his life until he got a cold several months ago and couldn't hear in one ear.
Doctors found his left eardrum was no longer working and the nerve which takes sound to the brain had given up, he told BBC Breakfast.
When they told him the sudden hearing loss and the tinnitus were permanent, he walked out of hospital "completely bamboozled", he added.
The charity Action on Hearing Loss says about 11m people in the UK have some form of hearing loss, and 2m use hearing aids. It estimates that there are about 6.7m people who could benefit from hearing aids.
Before being fitted with a hearing aid, Vaughan Jones said his situation had left him frustrated and embarrassed.
"There's only so many times you can interrupt. You feel embarrassed so you withdraw," he said.
He also described how he would smile and nod along when spending time with friends and family, feeling unable to engage and as though he was missing out.
His hearing aid, he said, has been a massive help, allowing him to return to work.
His return to screen, however, was a noisy one as he can hear the director and correspondents through an earpiece in his right ear and an amplified, distorted version of his own voice through the hearing aid in his left.
The brain should learn to quieten down that distortion, he said.
Getting used to wearing a hearing aid has not come easy.
"I was self-conscious about it. My hair is slightly longer so that's a reflection that I might have been trying to hide it," he adds.
Now back on air, he wants to show everyone he is wearing one.
"There's no logical reason why I shouldn't wear my hearing aid on air and feel good about it," he said.
Some took to Twitter to agree.
Robbie M said he started wearing two hearing aids five years ago after finding he was unable to hear in meetings. He advised Vaughan Jones to "wear them with pride," adding: "Quality of life over people's thoughts every time."
Nikki Magrath said: "Great to hear you talk about SSHL [Sudden Sensorineural Hearing Loss] today. I know just how it feels. Has happened twice – once with full recovery."
https://ear-wax-removal.co.uk/wp-content/uploads/2018/07/Ear-wax-removal-Devon.png
464
640
admin
https://ear-wax-removal.co.uk/wp-content/uploads/2017/12/earwax-removal.png
admin
2018-07-23 10:06:58
2018-07-23 10:13:54
BBC news reporter now wears a hearing aid.